Wood Burning Fireplaces
Better service. No nonsense
Looking for great options for a charming fireplace? These models can be installed into wood framing to create a custom fireplace that not only looks great but will heat up to 2000 sq ft with a burn time up to 8 hours. Great for the budget too!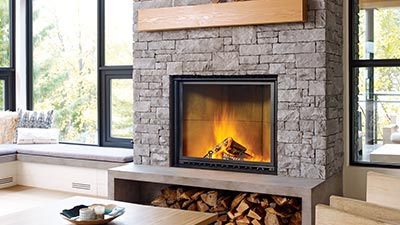 Add natural elegance to any room with Regency's largest portrait style wood fireplace. Designed to showcase the dynamic ambiance of a wood burning fire, the Regency Alterra CF780 is a magnificent and captivating focal point.
Easy to use: no air adjustment needed – load it and leave it!
Over 700 sq. inches of fire viewing area
Customize the look by choosing from contemporary or traditional brick panels
Clean edge finish puts the focus directly on the fire
Guillotine style door slides into the chase
Integrated safety screen can be pulled down when required, or discreetly hidden out of sight
Stylish removable wooden door tool with strap
Heavy gauge steel log retainers
Designed to fit perfectly on any wall, including corners
Door has been designed for cleaning and complete serviceability
Outside air and flue damper can be closed when not in use, preventing cold air from coming into your home
Approved to use with gas logs
Top vent with standard 8 inch pipe
Brick Panel – Contemporary
Brick Panel – Traditional
Safety Screen (included)
View Area – Over 700 Sq. In
Minimum Log Size. -18″
Room Size – Large
Firebox Size – 7.91 cu. Ft.
Dimensions – 49 5/8in. x 73 7/16in. x 33 7/8in.
Think we might be a good fit for you and your family? And want to join hundreds of other happy customers we've served in Virginia? Click below to schedule an appointment online.
Or call us at 540-225-2626.